Last Updated on September 5, 2023 by Linda Richard
Golden Retrievers, or Goldies, have a natural love for water – understandable with their water-repellent double coats and innate swimming abilities. Such a beautiful and functional coat requires regular grooming to look its best. Every Goldie owner has to find out how to groom their pet and the best tools for it.
Let's start with the search for the perfect brush to keep your Golden Retriever's coat healthy and shiny. Our pick for the best brush for Golden Retrievers is Hertzko Double-Sided Dog & Cat Dematting Comb, but it's quite an arbitrary choice and we have other options for you that are undoubtedly worth checking.
Brief review
Image
Product
Features
Hertzko Double-Sided Dog & Cat Dematting Comb
double-sided design;
rounded teeth for gentle grooming;
for all coat types;
one size;
stainless steel teeth;
rubber non-slip handle;
color: purple.
WOPQAEM Self Cleaning Slicker Brush
self-cleaning feature (retractable bristles);
effective fine bent wires;
comfortable grip handle;
for all coat types;
for sensitive skin;
one size;
stainless steel bristles;
plastic handle;
color: agua green.
Paw Brothers Extra Long Pin Flat Slicker Brush
extra long pins for thorough grooming;
tangle/loose hair removal;
gentle on the skin;
ergonomic handle;
best for long-haired breeds and thick coats;
various sizes;
stainless steel teeth;
rubber non-slip handle;
color: black.
Maxpower Planet Pet Grooming Brush
dual-sided design (bristles and pins);
loose hair/tangle/mat removal;
gentle on the skin;
for all coat types incl. medium/long-hair;
one size;
stainless steel pins;
nylon bristles;
rubber non-slip handle;
color: black.
YIRU Large Firm Slicker Brush for Dogs Goldendoodles
firm bristles;
tangle/mat removal;
ergonomic handle;
for large-size dogs (Goldendoodles);
stainless steel bristles;
rubber non-slip handle;
color: dark blue.
Hertzko Soft Pet Brush With Pins For Dogs, Cats
gentle soft pins;
loose hair/tangle removal without discomfort;
for sensitive skin;
one size;
plastic pins;
rubber non-slip handle;
color: purple.
Horicon Pet 6 in 1 Premium Dog Brush Set
set with 6 grooming tools (slicker brush, shedding brush, pin brush, flea comb, de-matting comb, and undercoat rake);
comfortable grip;
durable;
one size;
stainless steel (pins and teeth);
plastic handles;
color: white, blue, grey.
Hertzko Double-Sided Dog & Cat Dematting Comb
Overall best for Golden Retrievers: 4.5 out of 5 stars.
Herzko's double-sided dog brush is one of the best dog brushes and one of the best brushes for Golden Retrievers regardless of their coat type.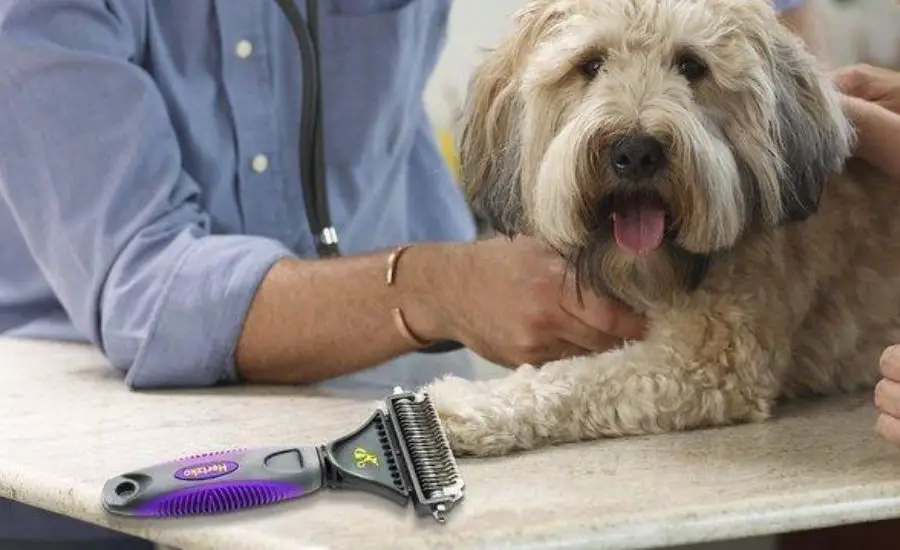 Its dual-sided teeth stand out: sharp teeth cut tough tangles, while the finer teeth delicately detangle and smooth the dog's coat.
Stainless steel ensures the comb's longevity and resistance to rust, while the handle is comfortable and ergonomic.
Thousands of reviews show that users have a blast de-matting Golden Retriever fur with it. Its efficiency on a dog's coat almost earns it a five-star rating.
However, there is one thing that makes it just slightly less than perfect, which is its relative harshness.
Even though the comb is on the gentler side, vigorous use may give your pet discomfort and even scratches. To prevent this, be gentle and follow the direction of hair growth.
Pros
Dual-sided design for versatile grooming
High-quality stainless steel construction
Effective in de-matting
Top-notch reviews
Cons
Must be used gently not to hurt the dog's skin
Relatively high price
WOPQAEM Self-Cleaning Slicker Brush
Best for Golden Retriever puppies: 4.5 out of 5 stars.
Not all normal brushes for Golden Retrievers are great for little puppies, but this WOPQAEM brush is a highly regarded tool for new pet parents. It has tons of positive reviews and is designed for combing the dog and provide gentle yet thorough grooming.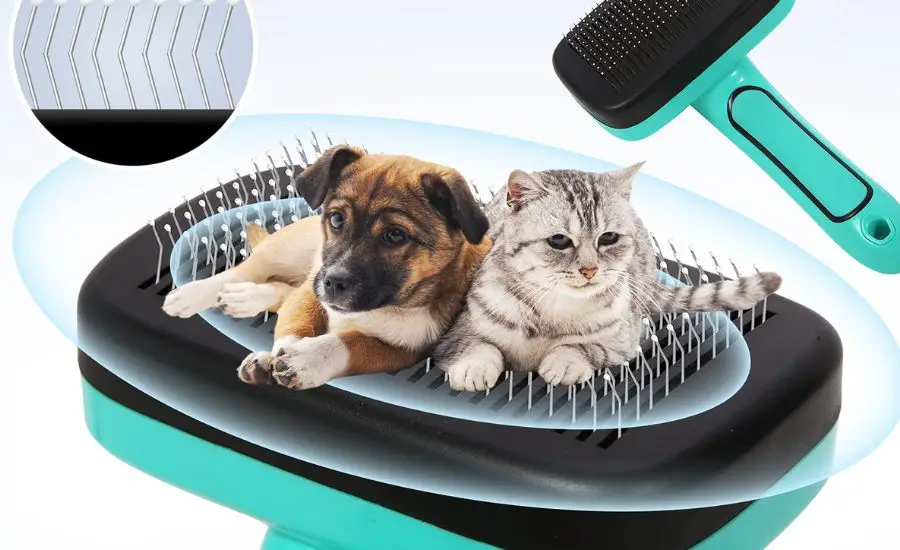 Not many dog brushes have a self-cleaning feature either. Here, it works like this: you effortlessly retract the bristles with a button or lever and remove trapped hair and debris.
While this may not make the brush entirely clean, manual help can be used to finish the job. Still, the system is convenient enough to treat this feature as a huge plus.
The brush's fine, closely positioned wires gently remove loose fur, and matting without irritating your puppy's sensitive skin.
Using it, you can establish your Golden Retriever grooming routine as early as possible in a puppy's life, making it easier by day.
This brush may be slightly pricier than other options, but due to added features and delicacy, many Golden Retriever owners consider it worth the money.
Pros
Self-cleaning feature
Gentle on a dog's skin
High effectiveness
Cons
Potential incomplete hair removal
Higher price
Paw Brothers Extra Long Pin Flat Slicker Brush
Best for long-haired Golden Retrievers: 4.5 out of 5 stars.
This pin brush is designed for grooming Golden Retrievers or other breeds with long hair. Its extra-long pins penetrate deep and de-mat dog's fur very thoroughly.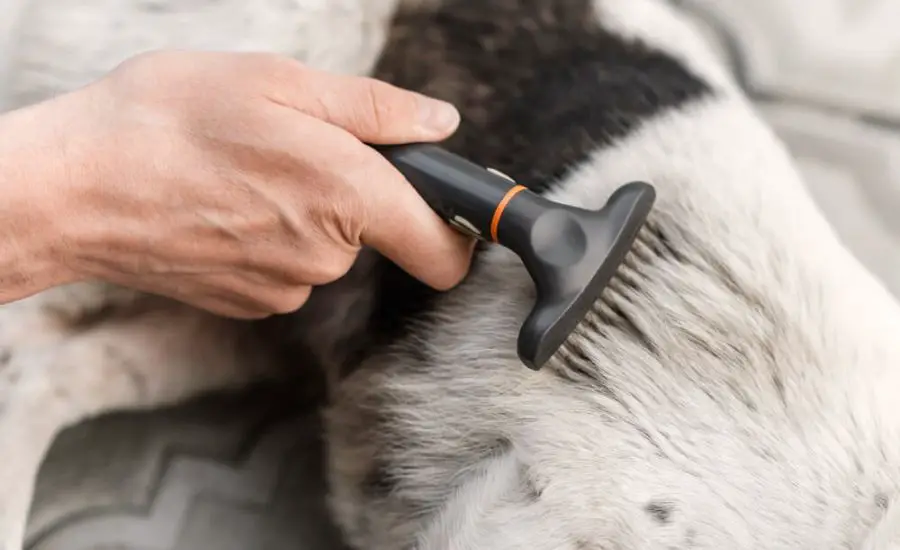 It's one of the best dog brushes for Golden Retrievers with irritative skin and works miracles with delicate coats.
One standout feature of this slicker pin brush is its ability to handle long thick hair easily, leaving the dog's coat healthy where other brushes fail to reach the dog's undercoat.
Golden Retriever owners praise the brush in reviews, pointing out its advantages compared to other 'pin brushes.
Yet, it's not ideal for short-haired breeds and sensitive pups. Its larger size and longer pins may be less maneuverable on shorter hair, and the pins might be harsh for sensitive skin.
Pros
Effective on long hair
Keeps the animal's coat in excellent condition
Positive ratings and reviews
Cons
Not the best for dogs with shorter hair
Longer pins may irritate sensitive skin
Maxpower Planet Pet Grooming Brush
Best overall dog brush: 4 out of 5 stars.
This dog brush is overall very versatile and reliable. It features a dual-bristle design with stainless steel pins and soft bristles. This allows for the effective removal of dead fur and tangles.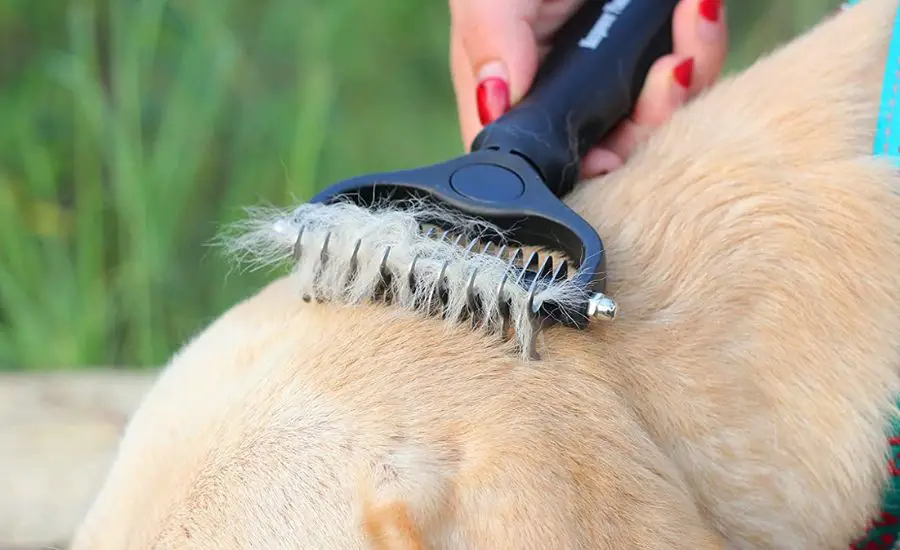 It competes well against numerous other pin brushes, but some Golden Retriever owners find it less effective than our list's top dog brushes.
It may require additional effort and patience for more challenging grooming sessions with the abundance of loose fur.
Yet, while it's a durable tool, it may not have the same level of durability as some of the leading grooming brushes available.
Some users have reported issues with the brush's longevity over time.
Despite these limitations, we consider it to be the best all-around dog brush. It offers a balanced approach and versatility, making it suitable for different grooming needs.
Its ability to handle various coat types perfectly makes it a popular and reasonable choice.
Pros
Versatile dual bristle design
Works on various coat types
Gentle brushing
Helps with shedding
Cons
Less effective on tough tangles
Some durability concerns
Not ideal for extremely thick coats
YIRU Large Firm Slicker Brush for Dogs Goldendoodles
Best for large-sized dogs: 4 out of 5 stars.
Even otherwise best brushes for Golden Retrievers may be significantly underwhelming on really large and hairy dogs, but not YURY's Large Firm Slicker Brush.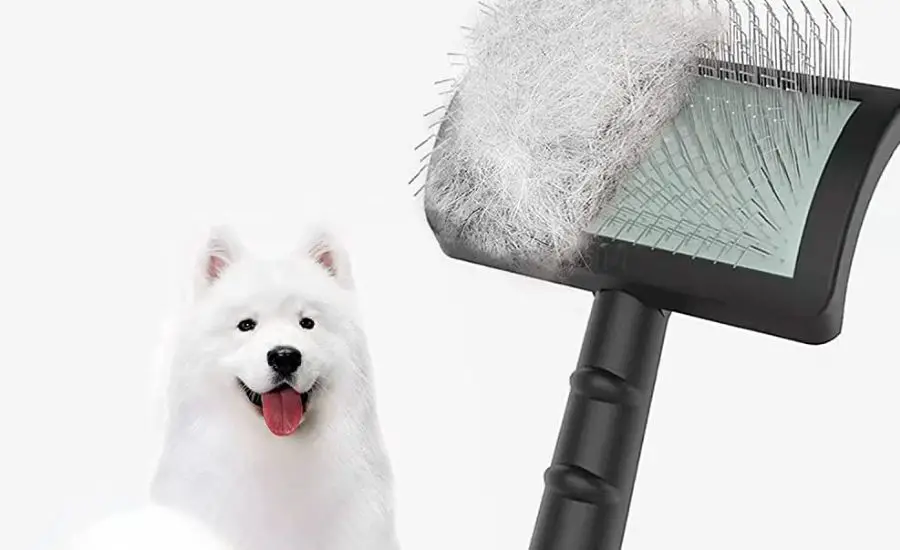 This grooming tool was specifically designed for large dogs, such as Goldendoodles.
Its size and firm bristles make it particularly effective for grooming those enormous beasts, keeping your large dog's hair impeccable.
A large dog's fur can get especially matted and tangled quite fast, and users highly appreciate how this brush handles challenging cases.
The firm bristles are designed to penetrate the coat and remove loose fur efficiently.
It is important to note that this YIRU brush may not be a good choice if your dog's skin is sensitive. Due to the firmness of the bristles, it is recommended to use the brush gently and carefully, paying special attention to your dog's comfort.
Pros
Made for large and wavy-haired dogs
Firm bristles are efficient for hard tasks
Durable construction
Comfortable handle
Cons
Too firm for sensitive skin
Not for smaller or medium-sized dogs
Cleaning may require extra effort
Hertzko Soft Pet Brush With Pins For Dogs, Cats
Best for sensitive skin: 3.5 out of 5 stars.
This Hertzko grooming brush is a versatile grooming tool that suits dogs and cats and is particularly delicate on sensitive skin. Its unique design takes the best from both pin and bristle brushes, which makes it stand out in the market.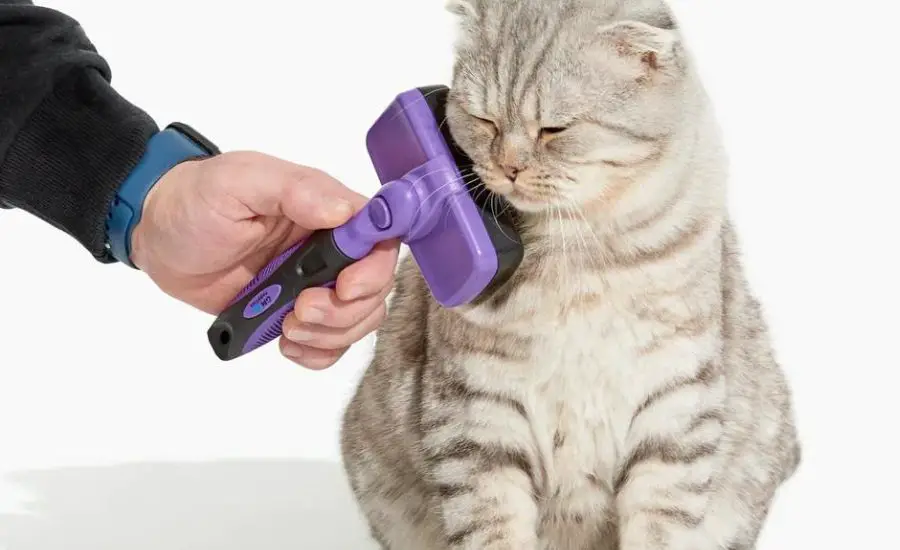 The brush features soft bristles with rounded tips that gently handle hair shedding, tangles, and mats without harming your pet's irritative skin.
It might not be the best for any Golden Retriever, but if the dog's skin issues really restrict your choices, this is your best choice.
Owners generally consider it good enough for Golden Retriever grooming, and it's the best bristle brush on our list, especially for a moderate-sized dog's coat in combination with sensitive skin.
However, it's better to consider other dog brushes for golden retrievers with thick or heavy coats, as the soft bristles may not penetrate dense fur or remove stubborn tangles.
Pros
Gentle bristles with rounded tips for sensitive skin
Ergonomic handle, comfortable grip
Suitable for dogs and cats
Cons
Not for thick or heavy coats
May not handle excessive shedding or severe matting
Durability concerns
Effectiveness varies based on coat type
Horicon Pet 6 In 1 Premium Dog Brush Set
Best versatile grooming set: 3.5 out of 5 stars.
This is the most versatile grooming set on our list, and it offers a range of dog brushes and beyond – in one buy.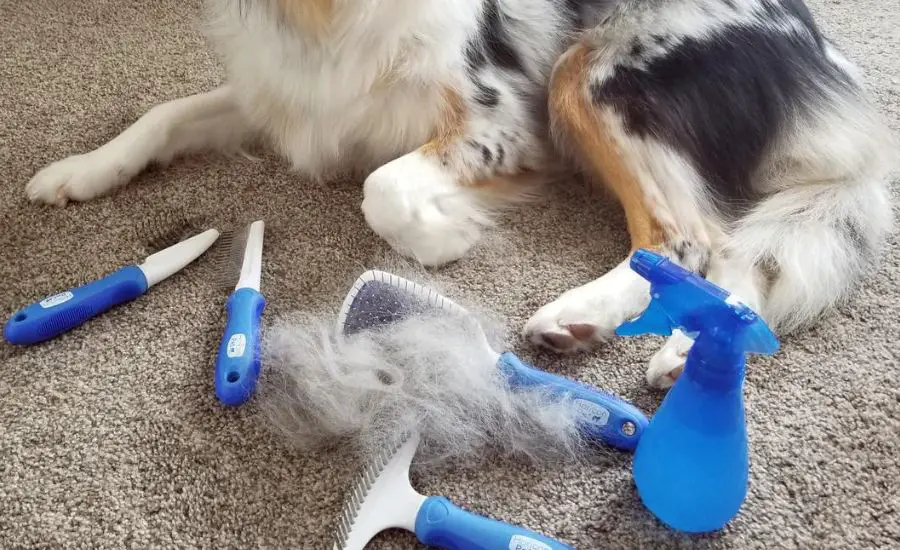 The set includes slicker and bristle brush options, a de-matting comb, an undercoat rake, a shedding blade, and a double-sided pin and bristle brush.
Each tool is a high-quality one, made of durable materials, and is supposed to serve you long.
The set is suitable for both dogs and cats and therefore it's perfect for multi-pet households.
It covers various grooming needs, and not only contains all necessary brushes for Golden Retrievers but also is the only option here with an undercoat rake included in the package.
While the set offers convenience and versatility, some tools may be more suitable for regular maintenance rather than saving a dog's coat from severe matting or heavy shedding.
Additionally, the effectiveness of some tools may not match that of standalone grooming tools specifically designed for certain purposes.
Pros
Versatile 6-in-1 grooming set for dogs and cats
Long-lasting materials and durable items
Convenient all-in-one package
Suitable for regular maintenance tasks
Covers brushing, detangling, and hair removal
Cons
Less effective for severe matting or heavy shedding
Some items may not match the performance of specialized tools
Understanding your Golden Retriever's coat type
The Golden Retriever breed has two main coat types: a wavy coat and a straight coat. Both require regular grooming, and the best dog brushes for your pet are those that match your dog's coat type.
Brushing, especially for dogs with wavy coats, is essential to remove loose fur, prevent tangles, and maintain a neat appearance.
Professional grooming, including trimming and shaping, may also be necessary, as it's not easy to handle golden's fur all the way through. Particularly, the double coat often remains neglected.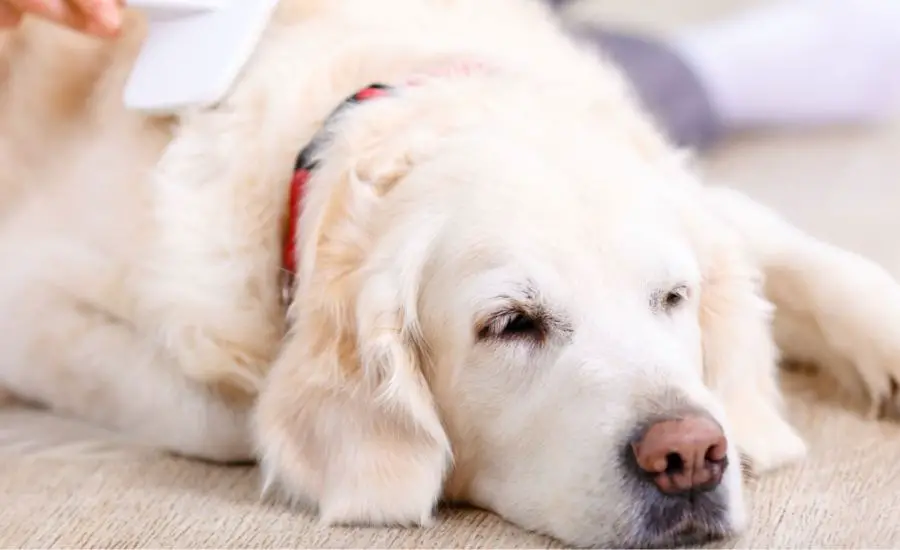 Classic, or wavy coat
Golden Retrievers with a wavy coat type have hair that forms loose waves. The waves are not tightly curled but have a gentle and flowing appearance.
This coat type is common and is considered the classic Golden Retriever look.
The wavy coat provides good protection against weather elements and requires regular grooming with a suitable grooming comb.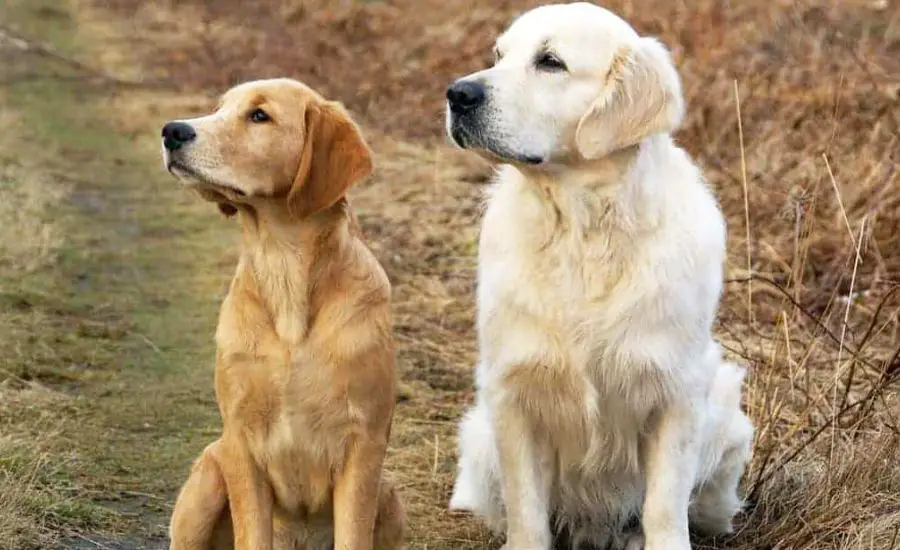 English cream, or straight coat
Some Goldies have a straight coat, which lacks the wavy or curly texture seen in wavy-coated dogs.
The straight dog's coat tends to lie flat against the dog's body, giving a sleek and smooth appearance.
While less common than the wavy coat, the straight coat is still recognized and accepted within the breed standard.
Dogs with a straight coat may have less feathering on the legs and tail compared to those with a wavy coat.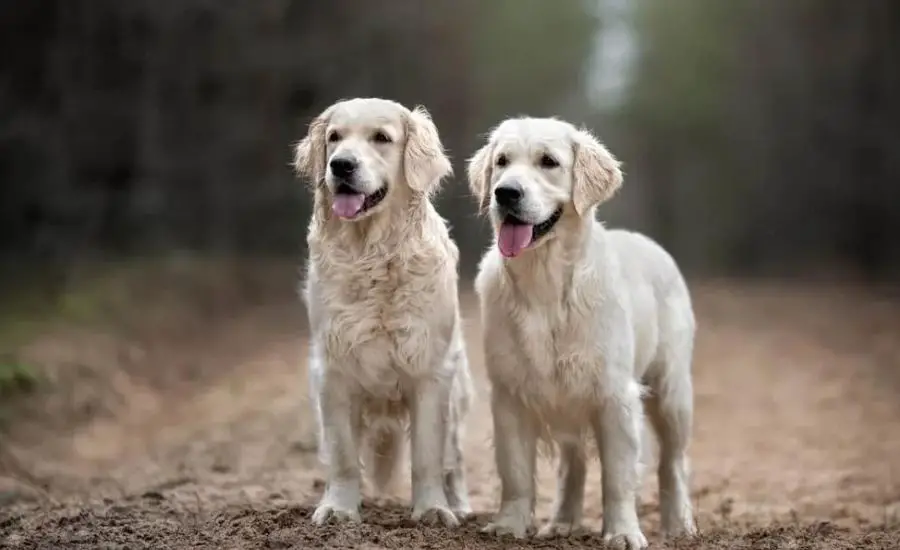 How to choose a good dog brush for a Golden Retriever?
Considering the best dog brush for your Golden Retriever, pay attention to a few factors to make sure you select the right one:
Bristle type. Opt for a gentle yet effective brush suitable for Goldies. Best dog brushes are fine and flexible slicker brushes that prevent matting and remove shedding hair. Natural or synthetic bristles, on the other hand, distribute oils for a healthy coat.
Size and comfort. Choose a grooming tool that fits your hand and your Golden Retriever's size. Look for an ergonomic handle for a secure grip.
Coat length. Consider your Golden Retriever's coat length. Long-haireddogs benefit from longer bristles that reach the undercoat and enhance blood circulation.
Short-haired dogs may use shorter bristles or grooming mitts, while more aggressive brushes may be harsh on a dog's skin.
Quality and durability. Invest in a durable brush. Stainless steel and high-quality plastic are the best long-lasting materials.
Additional features. Your best brush might have something extra to offer. Look for self-cleaning mechanisms, adjustable bristle lengths, or dual-sided designs for added versatility.
An undercoat rake or blade included in grooming gear will be a huge plus for dogs with a thick undercoat.
By considering these factors, you can choose a dog brush that is well-suited for your Goldie's grooming needs, promotes a healthy coat, and provides a comfortable and effective experience for both you and your furry friend.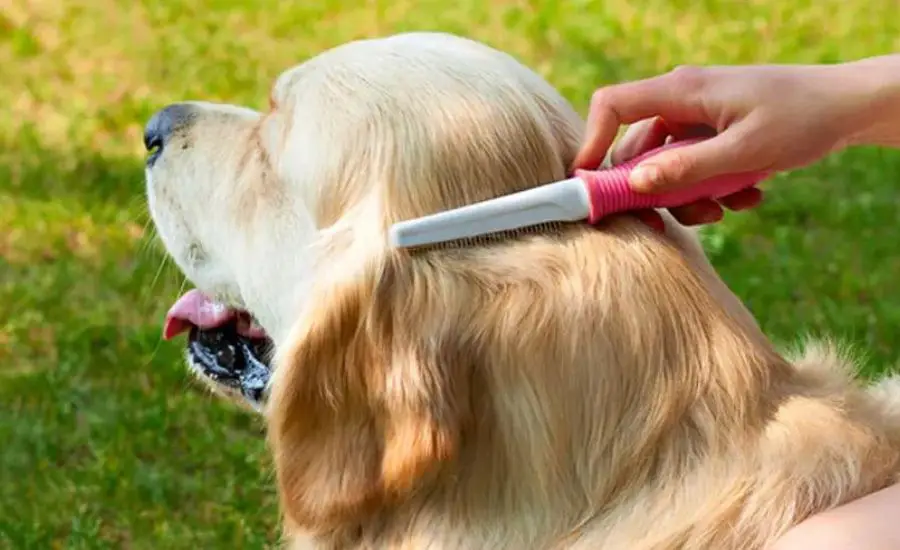 Managing loose hair in Golden Retrievers
Properly managing fur shedding is essential to keep your dog's coat healthy and prevent excessive shedding.
To achieve that without too much trouble, follow these tips:
Brush your dog's coat frequently to remove excess hair and trapped dirt, and prevent matting. This helps maintain a clean and tangle-free coat. Put an undercoat rake to use if a brush alone seems not enough.
Provide your Golden Retriever with a nutritious and balanced diet to support a healthier coat. Consult with your veterinarian for appropriate food choices.
When bathing your Golden Retriever, use a mild dog shampoo formulated for their specific skin type. Avoid harsh chemicals that can strip the coat of its natural oils. A weaker shampoo is a better option than one that's too harsh if the perfect fit is unavailable.
Schedule regular grooming sessions to trim your dog's nails, clean their ears, and check for any skin issues or parasites. This helps maintain overall coat health.
Dog's undercoat is capable of shielding them from the weather to some extent, but your Golden Retriever is better to have special gear on in extreme weather conditions. Protect them from hot sun or cold wind to prevent drying out or damaging the coat.
Ensure regular check-ups to address any health issues that may affect the coat. Your vet can provide you guidance on specific care needs for your Golden Retriever.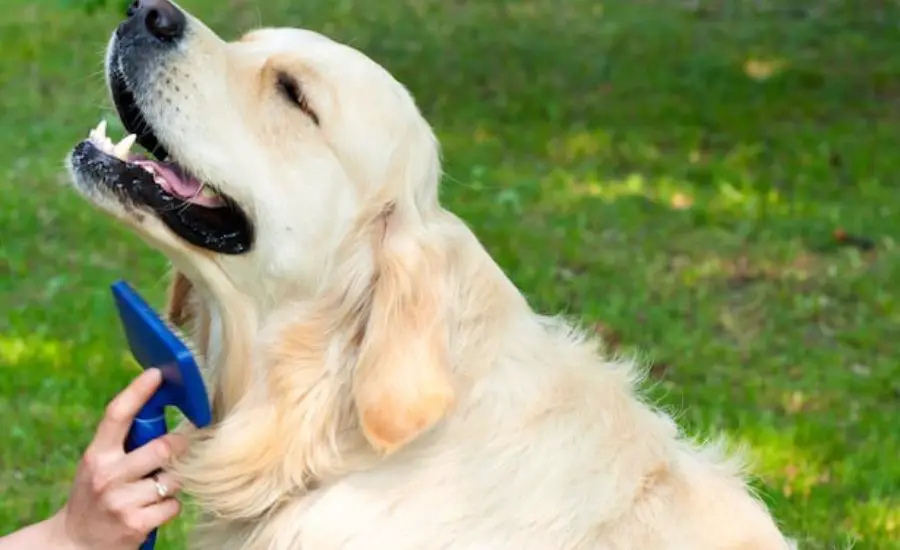 How to groom a Golden Retriever puppy?
Grooming a Golden Retriever puppy requires a gentle and patient approach to help them become accustomed to the grooming process. Here are some tips to groom a Golden Retriever puppy:
Start when the puppy is young.
Brush your puppy regularly.
Trim their nails.
Clean their ears.
Bathe as needed.
Don't neglect dental care.
Use positive reinforcement.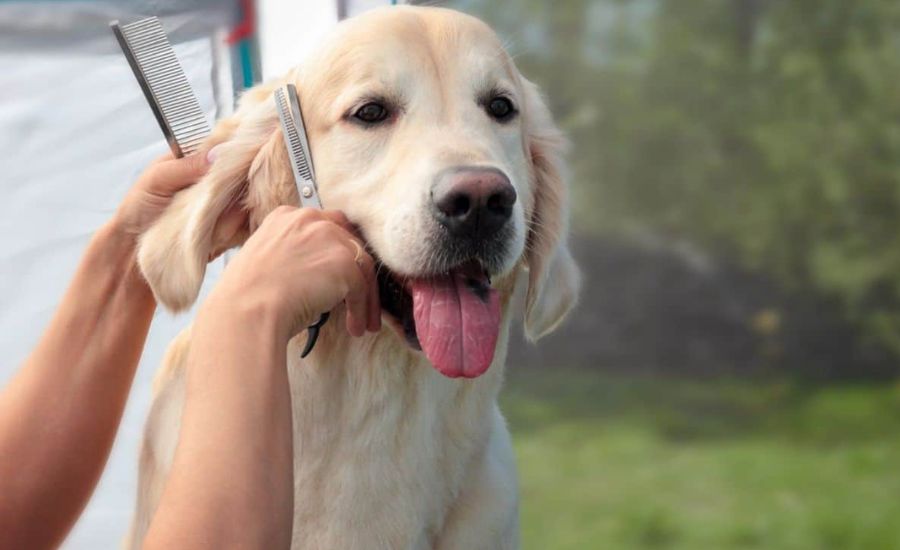 FAQs
What type of brush should you use for a Golden Retriever?
For grooming a Golden Retriever, it is recommended to use a combination of slicker brush and bristle brush.
Slicker brushes, with their short, fine wires, are excellent for removing dead hair and preventing matting.
They do not irritate the dog's skin and ensure a healthy, shiny coat.
On top of this, using a bristle brush can help distribute natural oils and further enhance the coat's appearance.
Regular brushing with both a slicker brush and a bristle brush is essential for maintaining coat health, preventing matting, and managing shedding hair.
What is a slicker brush for Golden Retriever?
A slicker brush is a must-have for Golden Retrievers. Its fine wires remove dead hair, undo matting, and promote a healthy coat.
This gentle brush works for all ages and coat lengths.
Regular use maintains coat health, prevents matting, and reduces shedding. Brush from head to tail to distribute natural oils and bond with your Golden Retriever.
Are you supposed to brush Golden Retrievers?
Yes, brushing Golden Retrievers is highly recommended. The dense double coat of your dog requires it regularly to prevent tangles and matting, remove loose hair and dirt, and stimulate the skin.
Remember to be gentle while brushing and include other grooming activities like bathing and nail trimming for their overall well-being.
Conclusion
Overall, we find the Hertzko Double-Sided Dog & Cat Dematting Comb to be the best brushing tool for Golden Retrievers. This comb is perfect for tackling mats and tangles in their long, dense fur. Its dual-sided design ensures versatile grooming while being gentle on the skin for a comfortable experience.
Although some users have reported occasional durability concerns, proper maintenance can address these issues.
Upgrading your Golden Retriever's grooming routine with the Hertzko Dematting Comb, you will your pet's coat healthy, smooth, and tangle-free. Grooming must be seamless and pleasant with this great tool.