Last Updated on November 11, 2023 by Linda Richard
People often used the words fur and hair interchangeably when it comes to dogs. That's not really accurate, however, and there are a lot of big differences between dog hair and fur. So, if you're a new lab owner you might be wondering do labs have hair or fur and why that matters? Does this affect allergies or shedding? Let's find out below.
Do Labs Have Hair Or Fur?
In a word – fur. Like most other dog breeds, a Labrador Retriever's coat can best be described as fur. There are a few breeds like the Poodle who have hair but most dogs have fur.
Dog hair vs fur – what's the difference?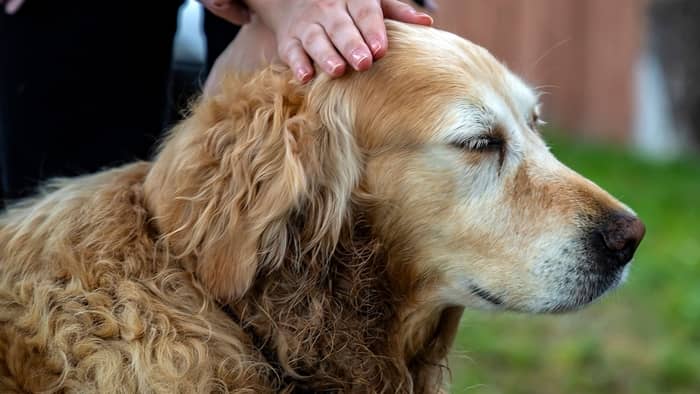 If you're new to the canine word you might be wondering what's the difference between hair and fur. It's normal to think that fur is just the word we use for dog hair but that's not exactly the case. While both fur and hair are made from the same main component – keratin – they are functionally different in several major ways. These include:
1. Length – fur doesn't grow as long as the hair
As you know, human hair can grow quite long hence why we need to get haircuts frequently to maintain its length. The same (partly) applies to dog hair as well. While it can't get as long as human hair as the individual strands of hair eventually fall, dog hair grows significantly longer than dog fur. Especially in labs, fur stays short and dense, close to the body.
2. Layers – fur is double-coated while hair has a single layer
This is the big one – hair and fur are at the core of the difference between double-coated and single-coated dogs. Simply put, fur comes in two layers – the upper layer of dog's "hairs" that we see and an underlayer of soft, short, curly, and dense fluff. These two layers have very different purposes that work perfectly together – the upper layer protects from the elements and is even waterproof in water dog breeds like the lab while the undercoat offers insulation against high and low temperatures.
Dog hair, on the other hand, doesn't have an undercoat. This means that temperature insulation isn't a thing for single-coated dogs. Dog hair also doesn't have the same waterproof function as a double-coated dog's upper fur layer. On the plus side, dog hair is much easier to maintain and groom, it doesn't shed as much and is much lighter overall.
3. Texture – hair is smoother
This is a less crucial difference but it is an easy way to check if a dog has hair or fur. As with humans, dog hair has a pretty soft and silky texture. It can still come in different types, of course – straight, wavy, curly, and so on. However, it's always soft and silky to the touch, especially when the dog's been fed and groomed properly.
Fur is quite opposite of that as it's always coarse and dense to the touch. This isn't as much a fault or a drawback of fur as it is its function. Fur's benefit is that it provides insulation for the dog so it has to be coarse and dense. As any lab owner will tell you, the coarseness of fur isn't "unpleasant" to the touch, it's just notably different from hair.
4. Shedding – seasonal or regular
The other big difference between hair and fur is the shedding. Dogs with both types of coat will shed, of course, as do all types of hair. Human hair sheds too, after all. The amount and regularity of the shedding vary, however.
As a rule of thumb, dog hair sheds a little but regularly. This means that maintenance and grooming are pretty simple for a dog with hair – you just need to brush and comb them often (say, every day or every other day) and you'll easily remove all their matted or loose hair and keep it from getting on your furniture.
Fur, however, is quite different. Dogs with fur will still shed a little every day. The difference here is two-fold: 1) that shedding will be less noticeable because fur is shorter and 2) dog fur also "blows out" two or three times a year.
This coat blowout will typically happen in the spring and fall and it is an almost full change of the dog's coat. That's done in order to prepare the dog for the summer and winter seasons. Needless to say, seeing a lab's coat blowout for the first time can be quite overwhelming.
Why do dogs have fur?
So, we know the answer to "Do labs have hair or fur" but why do most dogs have fur? The purpose of the fur is to provide insulation. Especially for northern breeds, having hair just isn't enough to stave off the winter cold. Fur is also great for swimming as it acts like a duck's feathers and keeps the water from making much of a (or any) contact with the dog's skin. Fur can also act as great insulation in the summer heat which is a big reason why it's usually a bad idea to shave your lab in the summer.
Do Labs Really Shed That Much?
They do. Labrador Retrievers are up there with some of the heaviest shedders out there such as Siberian Huskies, Golden Retrievers, and German Shedders. Fortunately, their coats are pretty short which alleviates the issue a little bit. But you'll still need regular brushing and grooming to minimize the problem.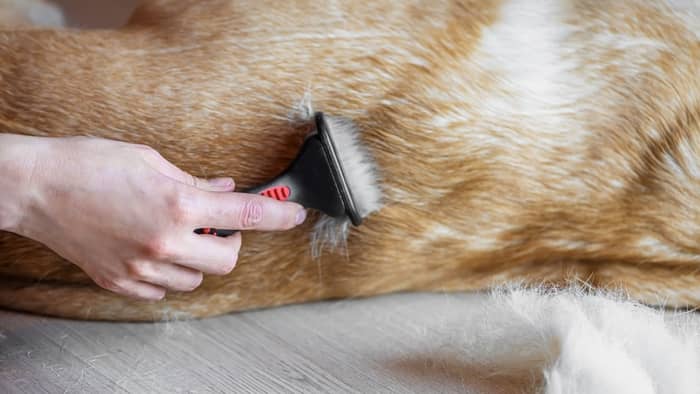 Are labs bad for people with allergies?
Yes, labs are definitely far from being hypoallergenic. Of course, it's not the actual pet fur that causes allergies – it's the saliva and dandruff that the fur carries in the air. However, the excessive shedding of the lab makes sure that people with allergies just can't live with a lab in the house. We'd recommend trying a poodle instead – they are the closest a dog can be to "hypoallergenic".
So, Do Labs Have Hair Or Fur, And What Does This Mean For You?
Labs have fur and lots of it. Fortunately, it's short which minimizes the shedding issue but it'd still be quite noticeable if you don't brush your lab regularly. Shaving is also ill-advised, especially in the summer when the lab relies on its undercoat for insulation from the heat. Overall, while shedding can be annoying, a lab's fur is an invaluable tool for the dog.
Read more about How To Shave A Lab And Why You Maybe Shouldn't?
Read more about How Long are Labs in Heat